They've made their list, you've checked it twice. It's time to start gathering presents for all the kids who've been nice. We scoured the internet (and asked our in-house experts) to determine what the must-have items are this holiday season. With these 15 options for gifts under $50, you're sure to put a smile on their face, whether you're shopping for babies or big kids.
Kids Holiday Gifts Under $50
As seen on TikTok! TeeTurtle plushies are ridiculously cute, and come in dozens of different animal options. They flip inside out for two different cuddle buddies in one! Each one retails for $15, and is suitable for ages 3 and up.
Flik Flak watches are designed to help kids learn how to tell time, and offer some really child-friendly designs. They also offer customization for a truly unique gift. Chosen text and graphic elements are individually embroidered onto the strap of the watch in a colour to stylishly complement the overall design. Choose from 4 blast from the past colours, all priced at $50.
Stomp Rocket dueling stomp racers let kids race their friends or siblings to the finish line with two stomp-powered toy car launchers and cars. A ramp and finish line are included. Great for outdoor and indoor play. It retails for $39.99 and is suitable for ages 5-12.
No list of gifts under $50 would be complete without a puzzle. And Nautilus wooden jigsaw puzzles are creatively designed by a team of artists and jigsaw puzzle enthusiasts in the United States. Each puzzle provides a challenging and entertaining experience for kids aged 12 and older. Prices vary, so be sure to set your search parameters to under $50 to stick within budget.
As seen on ABC's Shark Tank, the Comfy is the original wearable blanket, available in a junior size for kids! The light, soft microfibre fabric is like being wrapped in a warm hug. Perfect for kids, grandkids, nieces or nephews, it makes a cozy gift during the holidays and beyond. It retails for $49.99, and is suitable for kids under 10 (or so).
Get in on the cuddly craze that's sweeping the nation with everyone's favourite squish, available now in holiday-themed options. Choose from Mr. or Mrs. Claus, a festive fawn, elf, tree, or snowman. Each retails for $24.99 and is suitable for kids of all ages.
From the creators of Exploding Kittens comes Throw Throw Burrito, a dodgeball card game that's fun for the whole family. Collect cards, earn points, and throw soft burrito toys at one another for endless holiday entertainment for up to 6 players. It retails for $34.95, and is suitable for ages 7 and up.
LeapFrog is always good for lots of gifts under $50. Little ones will enjoy exploring colourful pages and learning new words with this fun book for toddlers. Touch the words and pictures on each page to explore words, fun facts, music, and sounds. Slide the language switch and the book pivots from English to French. Très magnifique! It retails for $29.99, and is suitable for ages 18 months and up.
Kids will love mixing, shaping, slicing, and squishing to their heart's content with this Sandisfactory Set! The set includes over 10 different tools and molds, and two pounds of Kinetic Sand, to create their own mesmerizing sand surprise reveals. It retails for $34.99, and is suitable for ages 3 and up.
furReal friends were hot last Christmas, and their popularity hasn't let up this year either. This pint-sized interactive plush toy is purrfect for kids to feed, play with, and snuggle with – their very own leopard kitty friend! It makes over 40 different sounds and reactions, and comes with 5 treat accessories. It retails for $39.97, and is suitable for ages 4 and up.
You can't go wrong with a LEGO Classic set, as they leave so much up to the child's imagination in terms of creative play. This set ups the ante by including enough sets of wheels to make 9 different model ideas, or leave it up to their imagination to get the wheels turning for endless imaginative play. It retails for $49.99, and is suitable for ages 4 and up.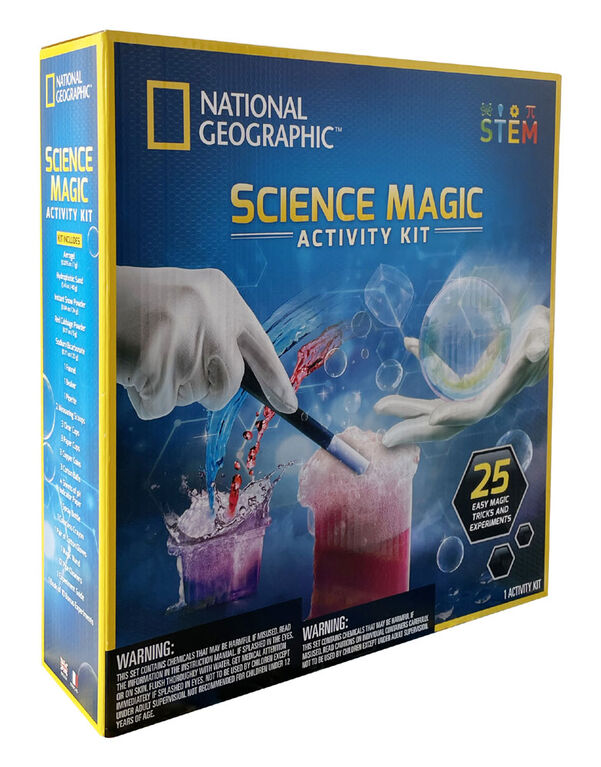 This magic activity kit contains everything kids need to be both scientist and magician, for 15 experiments/tricks. It even includes a wand and white gloves for added effect. Kids are sure to get a kick out of making a test tube disappear, changing the colour of water, creating a square bubble, and more. It retails for $49.99, and is suitable for ages 8 and up.
If your kids can't get enough of the original Labyrinth game, take things further with the Labyrinth Team edition. This mysterious maze game features shifting walls and treasure that needs collected in order to win. It retails for $49.99, and is suitable for ages 8 and up.
An abstract strategy game of transparent, Tetris-shaped, coloured pieces, Blokus offers endless fun for older kids and parents alike. Each piece must be placed touching at least one corner of your pieces already on the board. Fit as many of your pieces on the board as possible to win. It retails for $31.99, and is suitable for ages 7 and up.
I can't be the only parent whose kids won't stop begging them for this updated version of the classic game, right?! Pop in a disc and then spin the column. Things can change in an instant, as you never know how the discs will line up. It retails for $33.99, and is suitable for ages 8 and up.
Tagged under: holiday gifts,Christmas shopping,gifts under $50
Category: christmas