11 Family Fun Things to Do Outdoors This Winter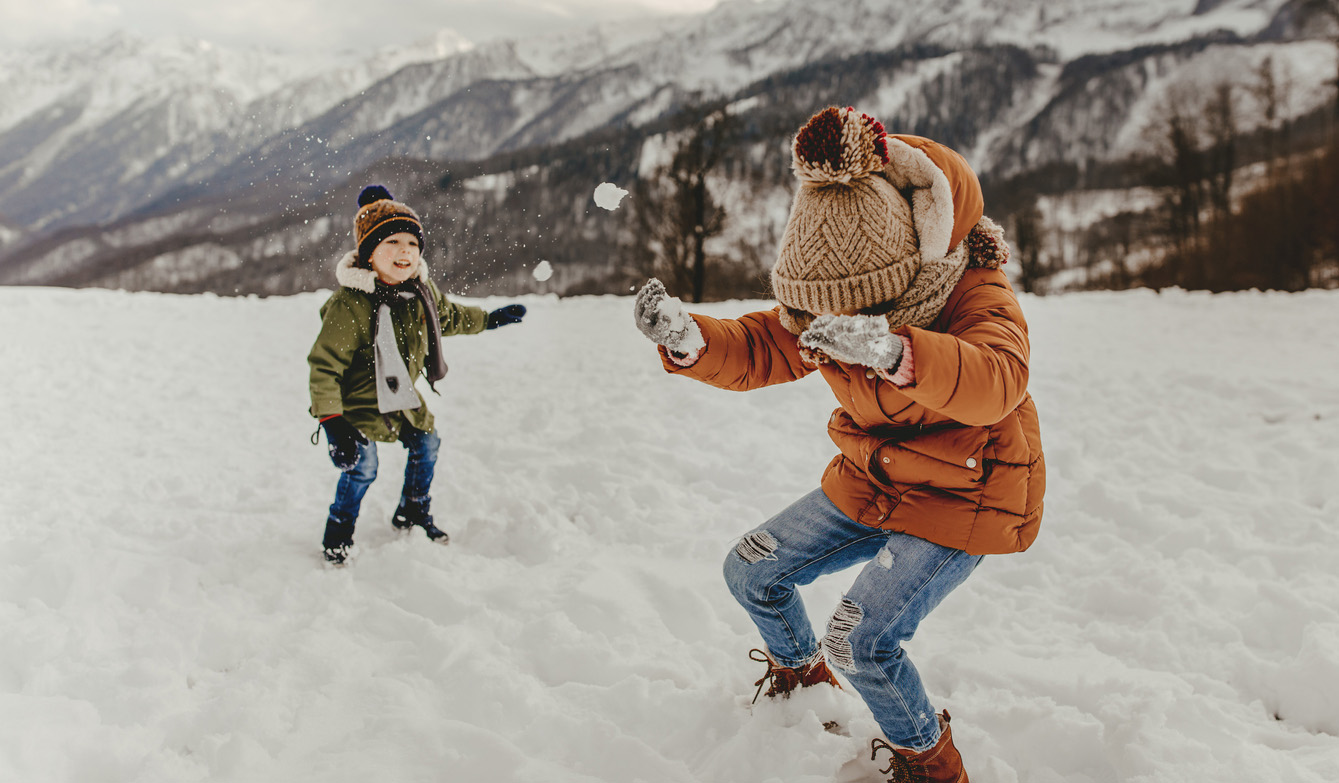 We've had lots of practice answering the question, 'What should we do today?' on winter days.  And playing outside helps the winter days fly by. This year there are more indoor options with Covid restrictions eased up across the country. But if you'd rather stick to the great outdoors, here's your chance to show Mother Nature what you're made of. Bundle up, and head out with this list of 11 fun things to do outdoors this winter with the family…
Family Fun Things to Do Outdoors this Winter
GO ICE SKATING
What could be more Canadian than lacing up a pair of skates and finding the perfect patch of ice to go skating? Whether you just want to cruise around, or want to pass a puck for a game of shinny, ice skating is always a great way to spend an afternoon. Many cities have free neighbourhood skating rinks, as well as rinks in parks. We'd recommend sticking to designated skating surfaces to ensure your safest skating experience, but if you're hoping to skate somewhere more natural, like a nearby pond or lake, remember to check the ice thickness first (stay off of ice less than 4 inches thick), never skate alone, stay off of moving bodies of water, and stick close to the shore whenever possible.
Best places for family skating in Toronto, Ottawa, Calgary & Vancouver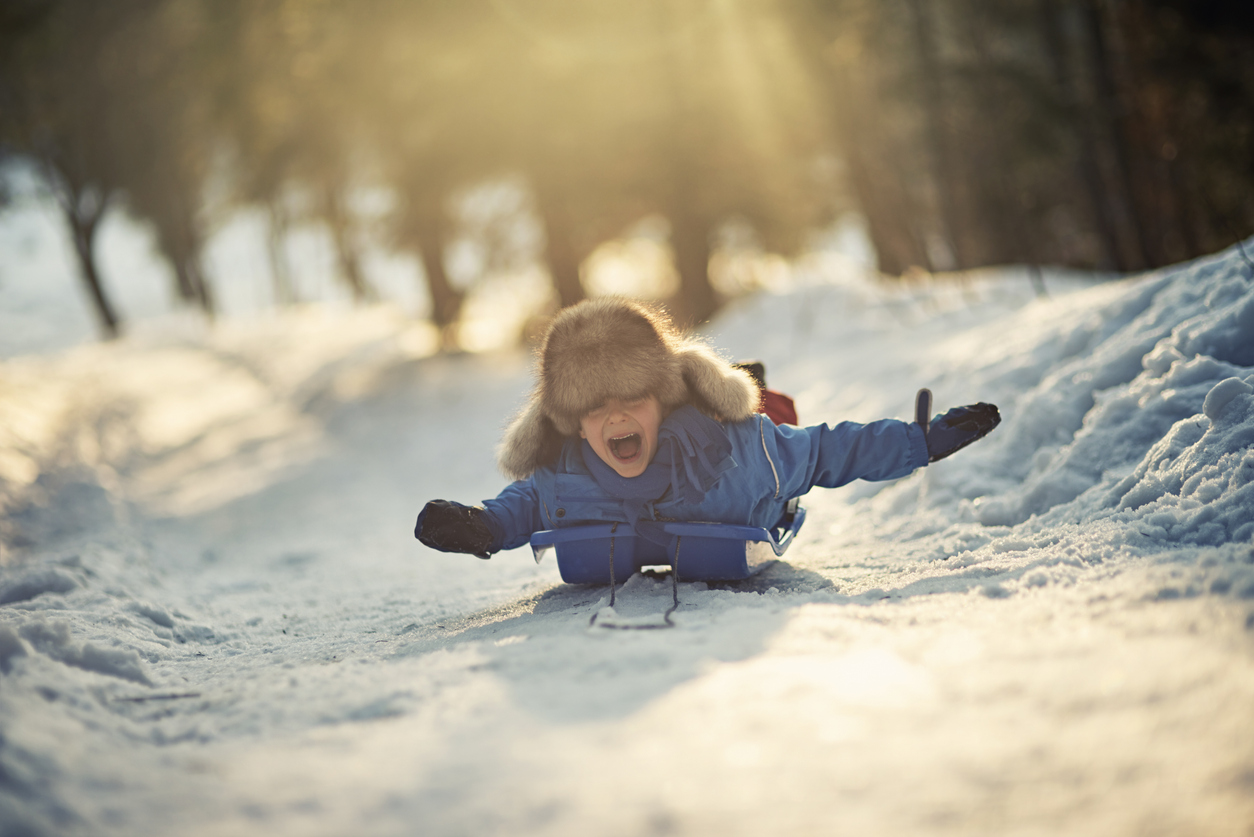 HAVE A BLAST SLEDDING
There's nothing better than some good old-fashioned slip and slide fun! Grab your favourite mode of downhill transportation and get ready to hit the toboggan hill. Our kids love building little jumps to go over and challenging each other to races on their sleds. Recently, our son decided to try out a friend's snowskate and has been having a blast getting his skateboard fix during the winter. Some cities and ski resorts even have designated tube parks where you can take a ski lift or "magic carpet" to the top of a larger hill for an adrenaline-packed tubing experience.
HOST A WINTER SCAVENGER HUNT
Get the family together to make up the perfect scavenger hunt list, or search for one online. Next, grab some snacks, hop in the car or bundle up and head out on foot to see who can cross the most items off of their list! A snowman with a carrot nose? A cat sitting in someone's front window? The beauty of a scavenger hunt is you can change up the clues as often as you'd like, meaning you've got a new game to play whenever cabin fever is starting to sink in.
GO DOWNHILL SKIING AND SNOWBOARDING
Depending on your area and what's open this winter, skiing or snowboarding is definitely a great way to spend an entire day out in the fresh air. If you don't have your own gear, equipment (including helmets) is usually available to rent for a daily rate. Skiing and snowboarding is an activity that can be a bit on the pricey side, so talking to your kids about saving up their allowance to take a special family outing might be a good way to show them both the cost and the value of a day on the slopes.
TRY OUT CROSS COUNTRY SKIING
If downhill skiing is a little too fast-paced for your crew, cross-country skiing could be a great alternative activity. Whether you're looking for groomed trails or just want to get out on a snow-covered field, there are tons of great options to give cross country skiing a try. Look for facilities near you for rental options, or try a secondhand sporting goods store, Kijiji, or Marketplace to get a hand-me-down pair if you don't already have your own.
STRAP ON SOME SNOWSHOES
Snowshoeing is another fun way to explore the deep powder outside. Again, if you don't have a pair of snowshoes, look near you to see if there are businesses that rent them (many also offer tours to help beginners and more experienced snowshoers on the right track). They can often be purchased secondhand as well!
BUILD A SNOWMAN
Do you wanna build a snowman? Sorry if that song will be stuck in your head for the rest of the day, but it's the perfect theme music for getting outside and rolling out a brand new friend! Whether Frosty or Olaf are your go-to guys, gather up your carrots, hats, scarves, and twigs to build a snowman together as a family, or have a competition to see whose snowman is the most creative! For extra fun, fill up squirt bottles with water and food colouring to spray on the snow and make things super colourful.
BUILD AN EPIC SNOW FORT
What kid doesn't dream of making an incredible snow fort? Will you freeze water in milk cartons to make blocks for the walls of your ice castle? Will your fort be the perfect hiding spot in a giant snowball fight? Is it a snow palace made for your kid's Barbies? Great news – you've got all winter to figure it out! A word about snow forts, though. As cool as a totally enclosed igloo-style fort is, it can be dangerous in the event that the fort caves in. Some cities actually have bylaws prohibiting fully enclosed forts as well. Instead of digging into a snowbank, consider building up the walls of your fort and choosing a removable option for the lid, or skip the roof altogether.
TRY GEOCACHING
Have you ever tried out geocaching? If your family is the type who'd love to head out on a treasure hunt, they're gonna love geocaching. All you need is a GPS device or a GPS-enabled mobile phone and access to a geocaching app. If you're not familiar with geocaching, basically, you plug your postal code into the app, and it tells you about hidden geocaches (which are basically hidden objects) nearby. You then use your GPS device to search for the hidden cache, some of which are very creatively hidden, and may even look like a piece of garbage to the untrained eye. Some geocaches are containers that have small items hidden inside which you can take and trade for a different item of your own. Other caches hold a logbook for you to sign. There are geocaches hidden all over the world – to get started on your adventure, check out this website for more information!
Photo credit: The Aspiring Something on Instagram
MAKE A WINTER BACKYARD OASIS
My husband recently decided that if we're going to be more or less stuck at home for the foreseeable future, we might as well make it worth our while. Thanks to a huge dump of snow we had a couple of weeks ago, we had everything we needed to build a giant snow hill in our backyard that our kids could use to practice their tobogganing and snowboarding skills. We took things up a notch by setting up chairs, a propane heater, and a fire pit nearby so we have the perfect setup for roasting hot dogs and s'mores, staying warm, and keeping busy in the back yard. The best part about playing in the backyard is that we never have to worry about the inevitable emergency snowsuit bathroom break situation or hot chocolate emergency – we've got everything at our fingertips!
GET CREATIVE IN THE SNOW
My young kids absolutely love using their imagination out in the snow. One day I gave them each a spray bottle with some water and food colouring in it, and they were totally entertained "painting" the snow for the better part of an hour. Another time, I sent them out with some kitchen pots, bowls and mixing spoons and told them to get "cooking". They had a blast making snow pies, cakes, and all kinds of other weird and wonderful creations using snow, leaves, rocks, and other random things they found in the yard. Another fun activity for kids is taking action figures or dolls out for a winter adventure in the snow. Are they climbing Mount Everest? Lost in a snowstorm? Let your kiddos choose the storyline! If you're lucky, you can send the kids outside in the back yard while you whip up some hot cocoa and sneak a few quiet moments for yourself.
How is your family keeping busy in Canada this winter? Do you have big plans for the snow, or will you be staying cozy inside? We'd love to hear your ideas in the comments!